I wasn't able to live up with my self-imposed
30-day challenge
. I was on a blog hiatus-- actually, I still am.
I have been very busy juggling so many tasks and responsibilities. It's overwhelming. I don't want to keep up with the challenge just for the heck of it, because I realized that people do read blogs. I owe it to them (
char!
) to at least come up with something interesting. However, bright ideas seemed so evasive these days and I am saving every little sensible brain activity for work.
There are days that I just want to sit quietly and do nothing. Do you feel that too?
Anyway, since the speech contest is over (
well, as far as I am concerned though. Congrats to the champion Desiree! I'll definitely see you in Bora.
), and my work load is more or less manageable (
note to self: hold on to your newly-found discipline
), I am looking forward to a less-stressful (
fingers crossed
) October. And of course, I am
uber
excited for our travels this month.
While I was scanning through my photobucket album, I forgot I promised a friend that I'll post a pic of the dress I ordered online which I blogged
here
. You might think I'm shallow but for me, it's somehow significant. Why? Precisely because, it's my first ever online buy and international at that. I still have reservations over buying stuffs online. The OC in me still prefers to actually see and feel the product. This particular piece from
Romwe
however is too tempting to pass.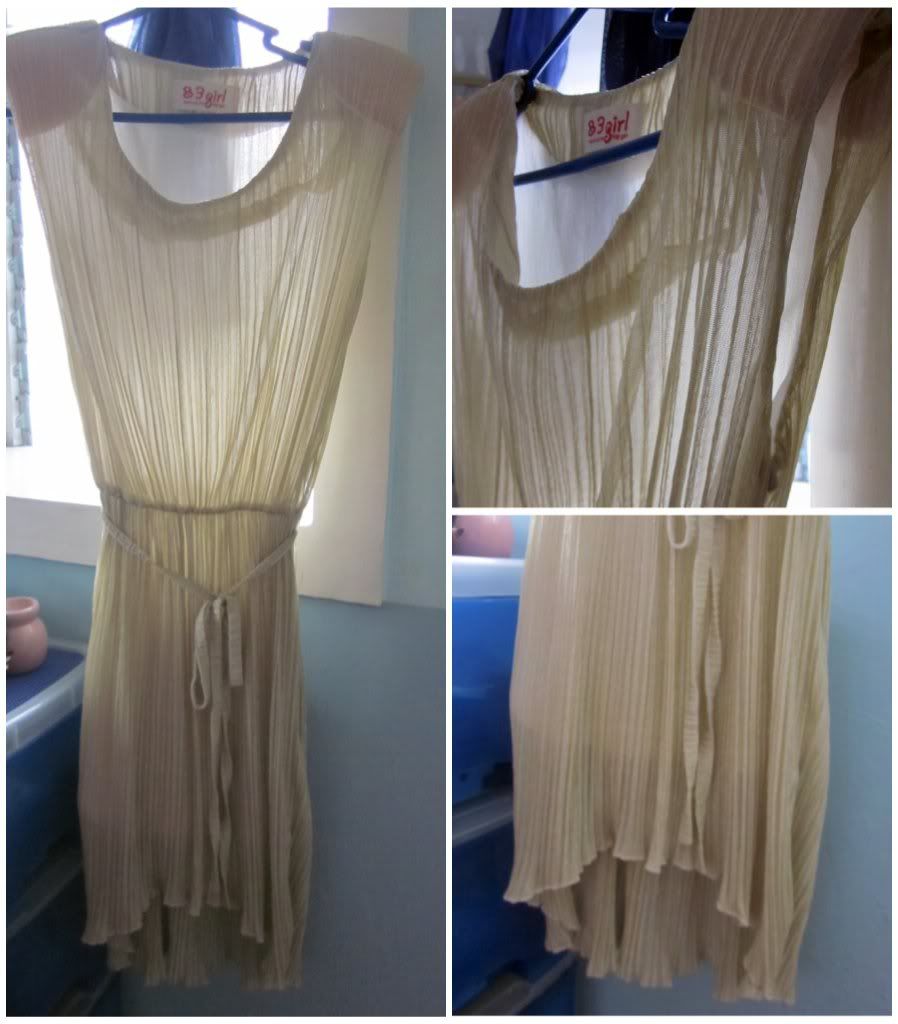 The overly-thick shoulder pads display the character
while the asymmetrical hemline gives it the feminine touch.
I am quite surprised at how sheer the material is when worn.
It looks beige in the pic but in actual, it is more of gold.
For OCs like me or those who are wary of doing online shopping, should you decide to buy a dress or shoes, the Number One rule is:
Know your size
and by knowing, I am referring to the metric system of measurement i.e. in centimeters (cm.) because most online shops provide the measurement in centimeters, not inches. Of course, you can always do the math-- 1 inch = 2.54 cm. I suggest you reserve your conversion skills during the payment part, from foreign currency to peso. Haha.
If you are not confident of your mathematical and estimation skills, always choose the safest. Check the type of material used. Always go for the stretchy or garterized ones. There are online shops that follow the "No return, No exchange" policy. If you are still unsure, choose the item which will not leave a dent on your pocket or which will not break your heart should it not suit you well or meet your expectations. By then, you can always charge it to experience. Happy shopping!